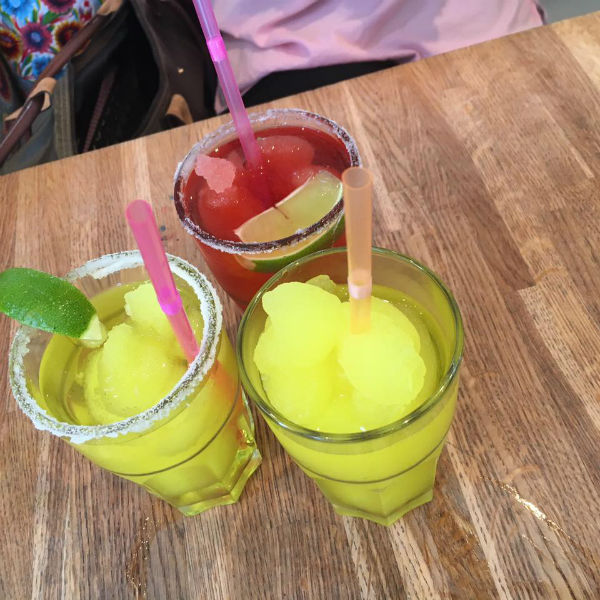 Believe it or not, this was our first visit at La Choza in Brighton – how have we never been there before? Who knows – if that's you as well – get yourself down there ASAP.
La Choza What You Need To Know:
La Choza is a small restaurant down the North Laines in Brighton. The decor is very day of the dead, skulls and colour all over, which is why we loved it. You can't miss the place it's painted in pink, yellow and blue so nice and bright.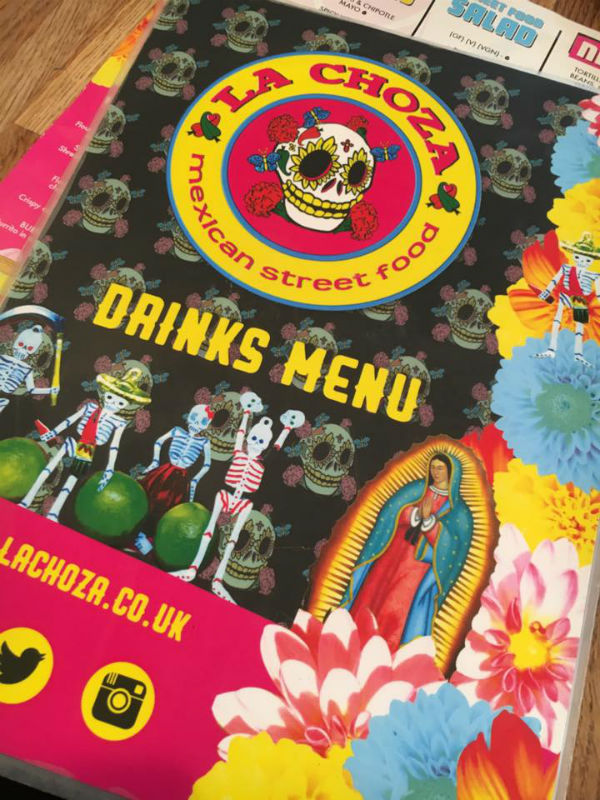 La Choza: The Food
When you got to a new place and you don't really know what's what, it can be quite daunting and this menu is no different. However La Choza know and they keep it pretty simple. They have a clear menu with stages – 1, 2 and 3. stage 1, burrito, taco or quesadilla. Stage 2 was the meat and stage 2 was the heat. You can tell that most of the customers probably ask the same question as they have a tray of nachos and sauces for you to test out. We tried all of them out and went for mild because we are wimps. To start we opted for the nachos, between 3 of us. We could have quite happily have ordered 2 of them, but then there would have been no space for the mains.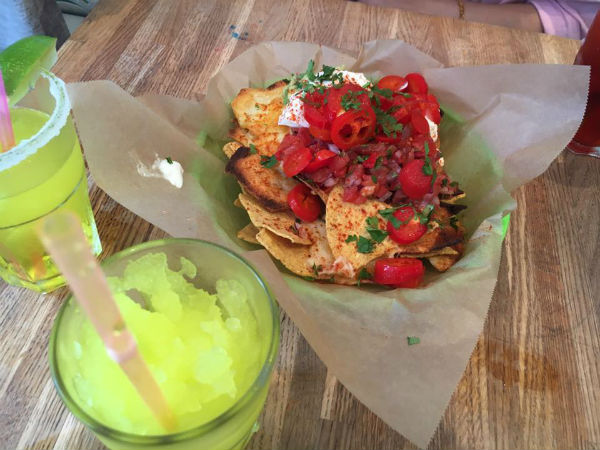 Underneath all the chillie's, there is a bowl full of cheese and refried beans. We would 100% suggest that you go for that, its amazing! 5 star rating from us.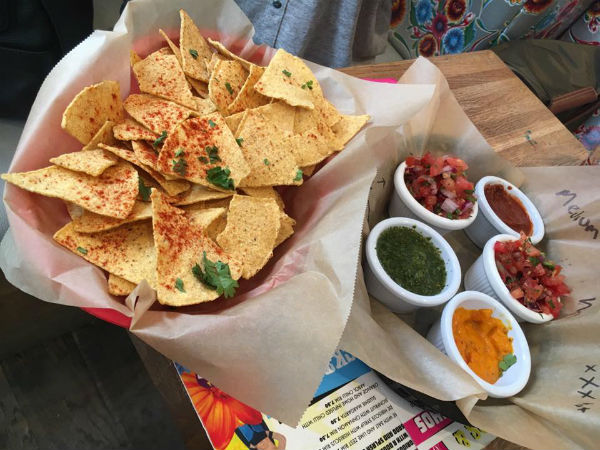 The nachos and dip we told you about – there is xxx hot, hot, medium and mild – ask to have a tester so you can work out which one you want in your meal.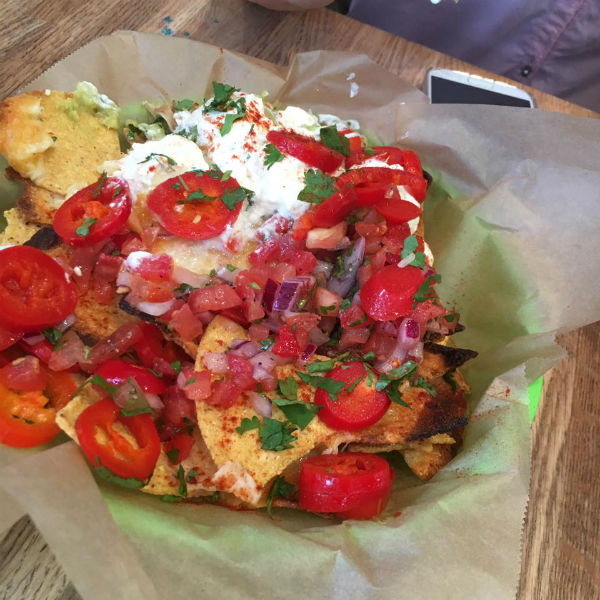 For mains we opted for one burrito with chicken and chorizo, one taco's with beef and pulled pork lettuce cups – which was on the specials board. The favourite out of the 3 was 100% the burrito – so next time we will al be having one of those. The lettuce cups were pretty amazing, and they were covered in crispy sweet potatoes, which we surprisingly loved. The tacos were also good, but next time we would go for a hotter sauce, the mild was way too mild for this dish.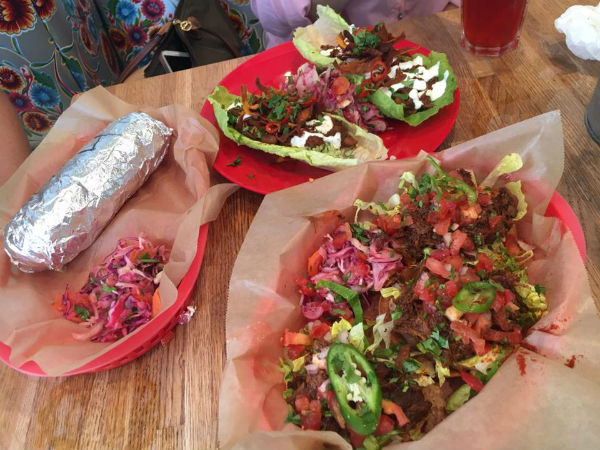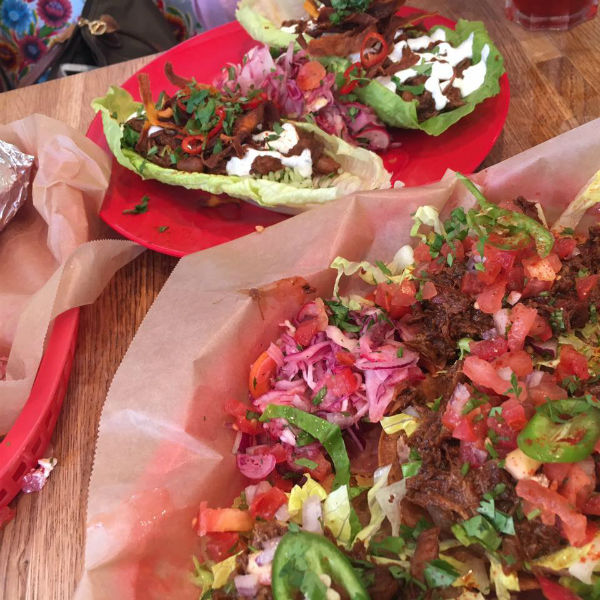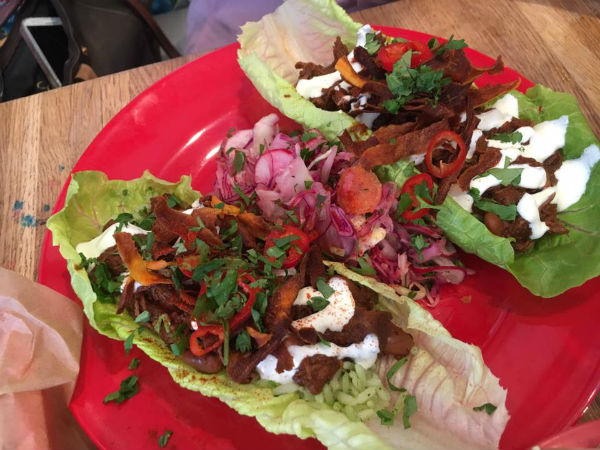 La Choza: The Drinks
They have quite a wide range of drinks on the menu. We went for alcoholic slushies. The slushie flavours were mango and also hibiscus, both were amazing without alcohol, but super yummy with tequila, so we were told. The mango and tequila was a better mix, tan than the hibiscus. Try them all – you'll definitely find your favourite cocktail there.
La Choza: Opening hours
Mon: 11.30 am – 4-pm
Tues – Sun: 11.30am – 10pm